I still have a copy of my very first pay check back in 2002. It was $24 for the four hours training at the nursing home. Back them I made $6 an hour.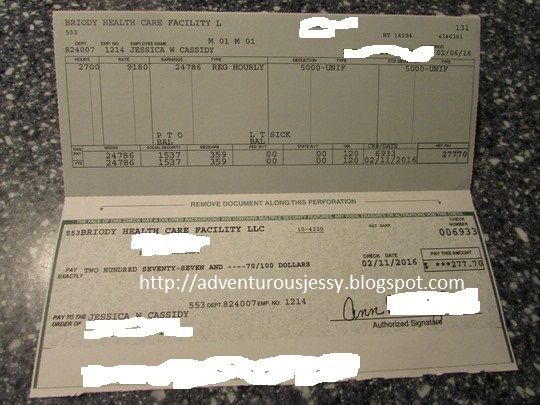 It has been 13 years and am now am back to work. This is my very first pay check after working in the health care facility which is only six minutes drive from where I live. I worked 27 hours that week. I was trained for three days and a day in the orientation. They also add the $50 for the uniform allowance.
This might be a small amount for others. As for me I am very thankful. I shared some to my Mom in the Philippines. Bought some new clothes for me and my kids. I also save a little. As to this date, I received four checks already.
I have worked for almost two months. The job is getting easier as I now know the routine. I will not trade anything in this job. Talking to the old residents and listening to their stories makes my job a lot easier. I made many new friends at work mostly nursing aide as we always bump into each other in one room.
This job is a blessing in disguise. I hope I can work longer and have the energy to go to work in my schedules. I usually work three times a week as I am only part-time. I got called once to work overtime.