The moment that Ms.
Rachelle Ayala
told me that she sent me the paperback signed copy of TAMING ROMEO in the mail, my heart never stop from beating. I am very excited and cannot wait for the book to receive it. I waited for three days and was disappointed that the book did not arrive yet. Ms. Rachelle Ayala then told me that the book will arrive on the 25th which was yesterday. I can then relax.
I love how Ms. Rachelle Ayala write my last name :-)
Yesterday, I was about to go to the grocery store but I saw the mail carrier truck just passed by our road. I check the mailbox and there it is the book did came. I was very happy and excited to open the package. I put the package on the front seat. I have to go to the store and do my grocery shopping first.
My very own copy of TAMING ROMEO thank you Ms. Rachelle Ayala
I pulled over to the driveway and my husband just got home from his work too. It is perfect as I need him to help me bring the groceries inside the house. I put everything away before I open the package.
Ms. Rachelle Ayala signed it too. I am one blessed and lucky reader
I am very happy that indeed the book came. I love how Ms. Rachelle Ayala write my last name. She writes a smiley face and it is too cute. The book TAMING ROMEO is wrapped with a plastic. Ms. Rachelle Ayala did a beautiful job protecting the book.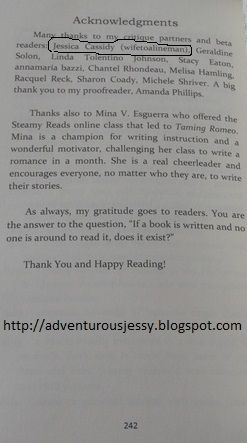 Yes! that is my name. I am very honored
I am so honored and blessed that Ms. Rachelle Ayala sent me a paperback signed copy of her new book TAMING ROMEO. Have you read her new book TAMING ROMEO? You still can get a copy for $0.99 at
Amazon
. Ms. Rachelle Ayala also has her three amazing books for $0.99 for the
Chance of Love
series. She is one amazing author. She will blow your mind away. I read these three books as well. I hope you will get copies of yourself, for that price you have nothing to lose but will read beautiful stories about love, suspense and crime.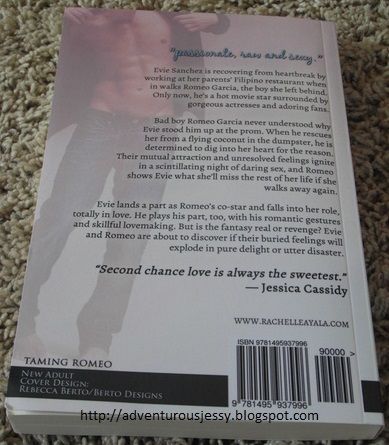 Thank you Ms. Rachelle Ayala for including my name.
Ms. Rachelle Ayala I want to thank you from the bottom of my heart for acknowledging my name in your new book TAMING ROMEO. I do not know how to thank you enough. I hope that God will continue to bless you to write beautiful stories.