I love to do my grocery in our local store called Tops. I think their prices are cheaper. I have to makes sure that I shop the sales too. They always have a buy one get one. I love the local store because it is only ten minutes from where we live. I have shopped my grocery since I came here in America in the local store.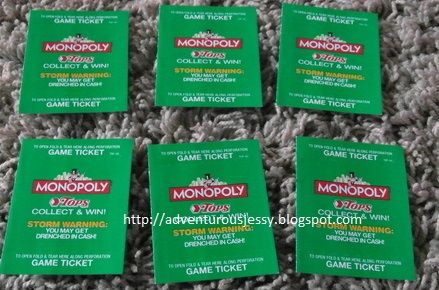 tickets for the monopoly games
A few weeks ago, they are having a monopoly game for their valued customers. I never win their big prizes yet. It is very easy to join the monopoly game. You get a ticket in each item they feature. The prizes are from cash, appliances, gadgets and trips.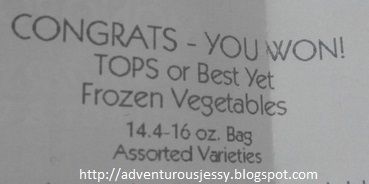 I won a bag of frozen vegetable
I never win the big prizes yet. I only win free items. I won two free items last week that I need to redeem. Sometimes I won free monopoly tickets. I need to get my board to paste all the my tickets. Please wish me luck. It would be awesome to win the cash. I really needed it this time to help me younger sister who needs monetary help so bad for her upcoming surgery.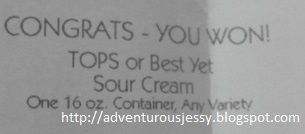 I won a jar of sour cream
How bout you/. Do you like to join any contest from your local grocery? Did you ever won?