Taken by Two by Sam JD Hunt Sale July 23-30, US & UK, Amazon Kindle Countdown Offer, .99/99p
For the ONLY time this year, grab the #1 Amazon Bestseller in several Erotica categories for less than a dollar! Taken by will never be cheaper, so get it and gift it during this rare sale.
Buy link: myBook.to/TakenbyTwo
Taken by two enigmatic men, Penelope Sedgewick overcomes demons from the past to learn to thrive in a thrilling new dangerous world. When the missing billionaire Nathaniel Slater reappears from oblivion and kidnaps her, she's sure his dark friend, Rex Renton, is the true one to fear. The nature of their close relationship intrigues her, and as the three are thrown together in a fight for their lives, the sizzling chemistry between them explodes with more heat than the exotic jungle Rex calls home. As each of the unlikely lovers seek redemption for past sins, the three-way love between them grows into an unbreakable bond.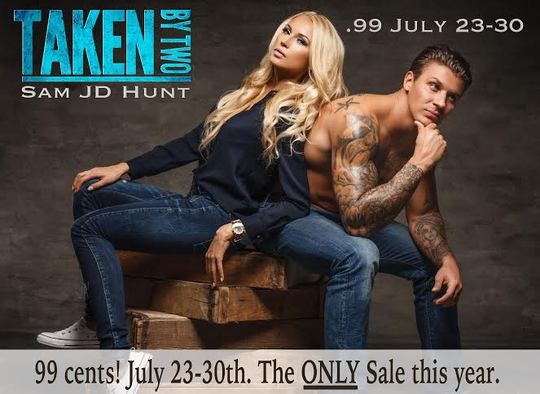 MMF/Ménage/Bisexual Full Length Erotic Adventure
#oneclick #MMF #99cents #99p #kindlecountdown #takenbytwo #samjdhunt