Jesse Tyler is the perfect mix of sweet prince and bad boy…
He is also my best friend—and I'm hopelessly in love with him.
Unfortunately he didn't feel the same way about me, and to make matters worse, he moved away in the middle of our senior year, completely cutting me off.
Now after a few years (and did I mention a new guy?) I am hit with the biggest bombshell of all—Jesse is moving back to town!
I know I should be happy, but I can't help but feel a bit nervous about our reunion, especially since I never once stopped loving him.
Will things be weird between us?
Will we struggle to reconnect?
But even more importantly…
Will he finally feel the same way about me?
I rated this book 5 *****'s
Love is worth the wait

Losing that V-card to a person whom you loved the most is so precious. Jesse and Rocky romance is so sweet. It will drive you crazy. LOVE is worth the wait between these two highschool Bff's.

Though the story is slow, it is fun to read too. I laugh out so loud. It gives you the sweetest smile but at the same time you want to smack Jesse and Rocky. These two are playing hard to get. Thank you to their other Bff Stephanie fo guiding these two love birds. There is also a love triangle and parents disapproval which is typical for a young relationships. I am so happy that finally Rocky decided what is best for her and Jesse.

I cannot wait to read this young author's other book. I LOVED her writing. I highly recommend this book if you love to read young adult romance.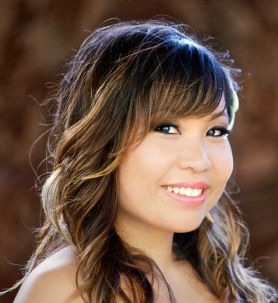 Thanks to her Mom's unwavering devotion to read a bedtime story to her every single night throughout her childhood years, S. BRIONES LIM's love for books began before she could even speak.

Raised in Southern California, Author S. Briones Lim initially dreamt of becoming an artist and/ or Book Author. A Psychology Degree (Summa cum Laude), a stint in Art School, and a career in Advertising/Media later, she is finally delving back into her first love – books. As a self- renowned bookworm, S. Briones Lim's love for books has inspired her to pen her own novels and hopes her readers will fall in love with her stories as much as she enjoyed writing them.

Author of the Amazon Bestselling novel, Caught Inside, S. Briones Lim's other obsessions include time with family, POPCORN, watching movies and her dogs, Tobi and Roscoe. She currently lives on the East Coast with her husband and continues to write every day.
You can click the book Two Outta Three in Amazon. You can also add it in GoodReads. You can learn updates from the author in her Facebook, follow her in Twitter or read her blog
I am so happy that the author S. Briones Lim is a Filipina like me. I cannot wait to read more of her writing.
Disclosure:
I received the e-book for free. All my reviews are 100% honestly mine.