This post brought to you by Moen, Incorporated. All opinions are 100% mine.
Growing up I never learn how to cook. My younger sister cooks for the family. My Mom assigns me to do the grocery. I do not mind doing all the grocery.  When I get married everything changes. I am having a hard time cooking for my family. I am not the best cook. I am still learning how to cook until now. I am glad that nobody is my family is a picky eater. They eat whatever I cook and serve on the table.    
I spend most of my time in the kitchen. Preparing food for my family takes time. I am glad that my little girl helps me in the kitchen. The problem is our kitchen faucet. It needs a new kitchen faucet. Our kitchen faucet is white and looks dirty now. I try to keep it clean but it does not look good.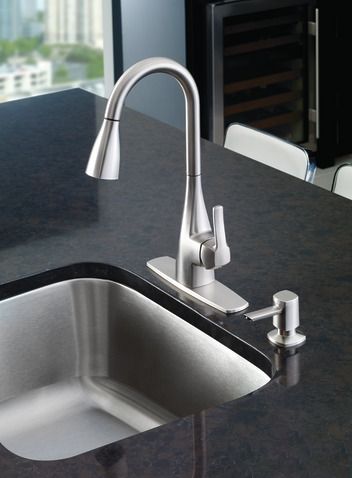 I wish I have this
Kiran Spot Resist one-handle pulldown kitchen faucet
. I bet it will look perfect. I cannot help admire the features of this beautiful kitchen faucet.  These are the features. It has spot resistant, fingerprint resistant, high arch pulldown design and relex system. No kitchen faucet will beat this kitchen faucet in the market.  Are you looking to buy a new kitchen faucet? The best kitchen faucet you are planning to buy like this Moen Kiran kitchen faucet is in the Lowe's store.  Why not check out your local Lowe's store.   
You can also learn beautiful products in their Facebook page or Twitter. Please do not forget to like their Facebook page and follow then in Twitter @moen.  I am encouraging all my readers to please like and follow their social medias. I liked their Facebook page and followed their Twitter already.